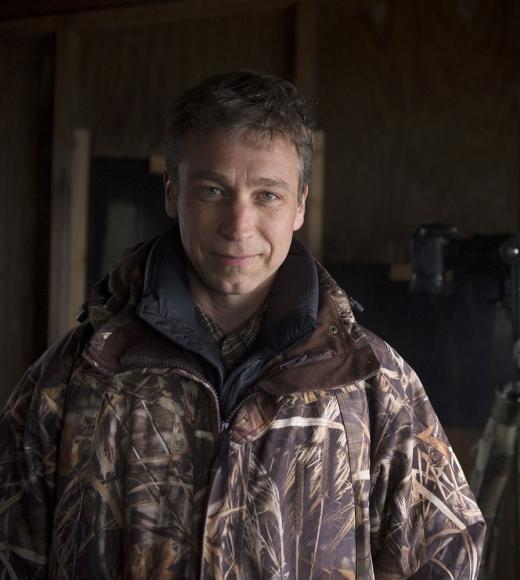 Michael Forsberg Photography
Bio
Michael Forsberg
is a Nebraska native whose 20-year career as a photographer and conservationist has been dedicated to wildlife and conservation stories in North America's Great Plains, once one of the greatest grassland ecosystems on Earth. His images have been featured in publications including Audubon, National Geographic, Nature Conservancy, and Outdoor Photographer magazines. His fine art prints are in public and private collections, and his solo exhibitions have traveled nationwide.
In 2000, his photograph of a Nebraska tallgrass prairie was issued as an international airmail stamp as part of the United States Postal Service's American Scenes Series. In 2017, his image of Sandhill cranes on the Platte River was selected to illustrate USPS's Forever stamp celebrating Nebraska's 150 years of Statehood.
Mike is the author and photographer of On Ancient Wings – The Sandhill Cranes of North America self-published in 2005, and Great Plains – America's Lingering Wild, published by the University of Chicago Press in 2009. He was featured in the NET Television documentary Crane Song, and co-produced Great Plains – America's Lingering Wild, based on his book of the same title, released on PBS in 2013.
In 2011, Mike co-founded the Platte Basin Timelapse Project (PBT) in partnership with the University of Nebraska - Lincoln and the Center for Great Plains Studies. Today it operates as a long-term multi-media documentary project to inform scientific research, build education content, and tell stories of a Great Plains watershed in motion. A documentary film based on the project is now in production.
Currently, Mike serves as contract faculty with the University of Nebraska where he teaches and is a Fellow with the Center for Great Plains Studies and the Daughtery Water For Food Institute.
He is a senior Fellow with the International League of Conservation Photographers and is represented by National Geographic Creative.
He lives in Lincoln, Nebraska with his family, a cat, and three unruly dogs.